Paris Saint-Germain
have agreed a €155m (£143m) fee with Monaco for Kylian Mbappé in a deal which could rise up to €188m (£174m) with potential add-ons. They have agreed the terms of a five-year deal with the player, but are still unable to convince Uefa that they will be able to comply with financial fair play rules if they sign the young Frenchman in the same window as paying €222m (£198m) for Neymar.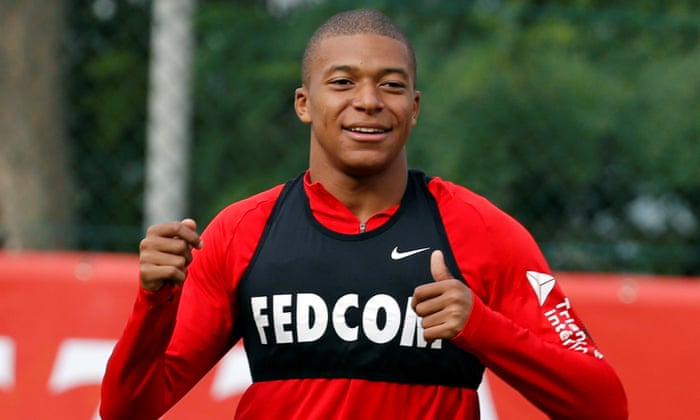 Kylian Mbappé is closing in on a move from Monaco to Paris Saint-Germain. Photograph: Eric Gaillard/Reuters
PSG, who finished second behind Monaco in the French league last season, have worked hard for the past week in trying to convince their
Ligue 1
rivals to let the talented 18-year-old go and while an agreement has now been reached they have yet to get the transfer past Uefa.
On Sunday night there were discussions about making a loan deal for one season with an obligation to buy when the next transfer window opens.
Uefa is adamant that its FFP regulations work and the president, Aleksander Ceferin, said on Friday that it would punish clubs "severely" if they do not comply with the rules. "I am very serious," he said on Friday. "We will try to help [the clubs understand the rules]. We will try to advise them on FFP. But if they don't comply we will punish, and we will punish severely."
He added: "I am not talking about [just] PSG. I am talking about every club in Europe. We are monitoring the situation, the transfer window is not closed yet. Trust me, we're working on it."
PSG were punished for breaking FFP rules in 2014 after a sponsorship deal, arranged with Qatar's tourist body, was deemed to have been of insufficient value to match the £167m PSG received for it. Manchester City, also in 2014, were fined €60m (£55m) and told that instead of naming a squad of 25 players for the Champions League the following season they could name just 21 with eight of those homegrown.
FFP was introduced by Uefa seven years ago to stop clubs involved in European competition from spending more than they earn. The basic principle is that, beyond a small loss currently set at €5m (£4.6m) over three years, clubs' outgoings must match their incomings. Since then, as well as exempting any expenditure on infrastructure or youth development, Uefa has also allowed owners to spend an additional €30m of their own money over a rolling three‑year period.
Monaco have already sold several members of their title-winning squad with
Bernardo Silva
,
Tiémoué Bakayoko
and
Benjamin Mendy
all joining Premier League clubs.
Source: THE GUARDIAN