Liverpool defeated and outclassed Arsenal
in every department and perhaps the most worrying part for Arsenal's fans is that these kind of defeats isnn't surprising anymore. Arsenal have now conceded 17 goals in their last five matches at A
nfield
and, if anything, it was a surprise the latest defeat stopped at four. Arsenal were clueless a
nd played as if
nothi
ng was at stake
– No wo
nder
they let in eight goals whe
n they were defeated by Manchester U
nited some seaso
ns ago
.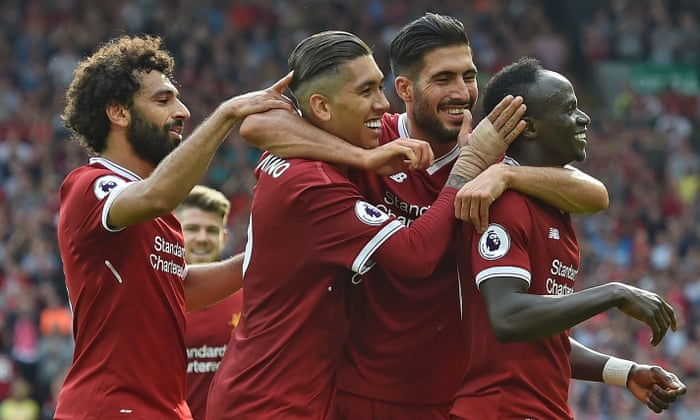 Sadio Mane of Liverpool celebrates the second goal during their 4-0 win over Arsenal at Anfield. Photograph: Andrew Powell/Liverpool FC via Getty Images
Yet again, it was all the usual shortcomings, and same old problems that should have been solved a long time but now feel synonymous with the latter part of Wenger's fading reign as Arsenal's Manager. Liverpool were a class apart and, in the process, Jürgen Klopp's men proved something here. Liverpool without Philippe Coutinho have been portrayed in some quarters as a flower without sunlight but yet they displayed a scintillating and a magnificient display.
This simply isn't true.
Whatever happens with Coutinho, Liverpool are entitled to think positively when Sadio Mané, Roberto Firmino and Mohamed Salah are capable of playing with this kind of urgency. All of their three attackers scored, along with the substitute Daniel Sturridge, and by the time Salah had sprinted half the length of the pitch to poke in the third goal Alexis Sánchez was crouched down by the left touchline, lost in his own thoughts and cut off from the rest of his team-mates. His body language told its own story.
Perhaps they were unlucky to come up against a Liverpool side playing at the point of maximum expression but, unfortunately for Arsenal, these are the occasions when we are reminded why Sánchez wants to leave, why Alex Oxlade-Chamberlain thinks there might be greater adventures or challenges elsewhere and why a third player, Mesut Özil, is guilty of leaving exactly the same impression.
Wenger was asked afterwards what had gone wrong. "Everything," he said. Arsenal have now lost nine out of their last 14 away games if we think back to the travel sickness that afflicted them last season, too. They took only nine points from their 10 games against the other top-six sides in that campaign and it would be madness, on the evidence of their latest defeat, to think they will be any closer to challenging for the title this season.
Liverpool took a little while to realise that Arsenal were ripe for a beating but when Firmino headed them into a 17th-minute lead the imbalance between the two sides started becoming clearer. Klopp's men attacked relentlessly all over a team that, in Wenger's own words, were "an easy opponent for Liverpool." Ramsey was removed at half-time. Özil has never been a chaser of lost causes and Oxlade-Chamberlain made it feel laughable he is the subject of £35m bids and a £180,000-a-week contract offer. Is he really worth it? His afternoon here ended with a substitution and the sight of him throwing his tracksuit top on the floor.
Mané's goal that make it 2-0 was just one of countless times Holding was exposed. Joe Gomez, Liverpool's young right-back, started the counter-attack. The referee, Craig Pawson, played advantage when Xhaka fouled Wijnaldum and within moments Liverpool had swept upfield, Firmino's pass had left Mané with the chance to take on Holding and Petr Cech was picking the ball out of his net.
Gomez was also involved in the first goal, pinching the ball off Hector Bellerin before crossing for Firmino score with an unchallenged header. Bellerin also gave away possession when Salah chased him down and ran clear for the third. An Arsenal corner had turned into a Liverpool goal and, once again, it was alarming to see the chaos within Wenger's ranks.
Sturridge headed in the fourth from Salah's left-wing cross and Arsenal will not even wish to contemplate what the score might have been if Cech had not made several splendid saves. Loris Karius, in stark contrast, must consider Arsenal were obliging opponents on the day Klopp made the unorthodox decision to "rest" Simon Mignolet, leaving his usual No 1 out of his entire squad. Karius still had some awkward moments, twice chased down by Daniel Welbeck with the ball at his feet, but he did not have to make a single noteworthy save.
"We're going to win the league," Arsenal's fans sang. But at this rate, their humour will not last.

Source: THE GUARDIAN